Oh, goodness! I've been a little MIA the last couple of weeks. I really have been missing my blogging friends and my wonderful dear readers! Sometimes life just "takes on a life of it's own"!
Well, I'm sorta back to normal... as normal as can be for the week of a major holiday... and looking forward to visiting all the blogs, facebook pages and pinterest boards that inspire me!
I am very thankful for this FABULOUS supportive community... you will be in my prayers on Thanksgiving for sure!
Do you have favorites blogs that inspire you? Wouldn't it be so much fun to give them a shout-out in the comments this week... so we all can find and visit them too!
Now here's whats ON THE MENU at StoneGable this week...
MONDAY
Mashed Potatoes
Sauteed Green Bean In Garlic Oil
TUESDAY
ARTICHOKE CHICKEN WITH ANGEL HAIR PASTA
Greek Salad
WEDNESDAY
MEAT LOAF
AUNT SUE'S MACARONI AND CHEESE
Broccoli With Warm Bacon Dressing
THANKSGIVING
We eat the same thing every Thanksgiving... because everyone has a "favorite"!
Baby Greens, Pears, Candied Pecans and Bleu in Poppyseed Dressing (Courtney and John's favorite)
Green Jello Salad (Lisa's favorite)
Roast Turkey (Jim, Dave, Pop-Pop and Bob's favorite)
Bread Stuffing (my favorite... and everyone else's)
Make Ahead Mashed Potatoes (everyone loves these)
Giblet Gravy (everyone, again)
Green Bean Casserole (Courtney and Chris' favorite)
Pecan Crusted Sweet Potato Casserole (Kelley and Jonathan's favorite)
Orange Cranberry Relish (Lisa and Mom's favorite)
Canned Cranberry Jelly (my favorite~ no judging)
Soft dinner rolls (Lisa's favorite)
Pumpkin Pie (Chris, Jacqeline and my favorite)
Pecan Pie (Bob's favorite)
Pumpkin Cheesecake (Lisa, Jim and Mom's favorite)
Reveal Cake ( my niece and husband are expecting and revealing the sex of the baby with a cake)
Ice Cream
Whipped Cream
Wine
Iced Tea
Coffee
FRIDAY BREAKFAST
LEFTOVERS!!!
Each Thanksgiving morning the women of the family come down for breakfast in our jammies and have Thanksgiving leftovers while reading Christmas magazines! And we have a sliver of dessert with our coffee.
This is such a fun fun tradition! After all the work of Thanksgiving dinner the day before... we can eat our favorites and chat and enjoy some well deserved "girl time"! No guilt invited... it's only once a year!
SATURDAY
PAN SEARED SCALLOPS IN A WINE REDUCTION
TASTY TATERS
BRAISED BRUSSEL SPROUTS WITH BACON AND SHALLOTS
SUNDAY
MINESTRONE SOUP
Crusty Bread
Let's get right to the yummy features this week... here are some last minute Thanksgiving recipes that just might help you round out your own Turkey Day menu...
My very favorite part of Thanksgiving is he stuffing. Here is a yummy sounding
MOM'S STUFFING
from LIFE IN MY EMPTY NEST. It sounds similar to mine too!
Nancy at THE HEADMISTRESS is giving a special Thanksgiving take home after Thanksgiving dinner...
ROSEMARY SALT
. What a thoughtful gesture, Nancy!!!
Mary from AT HOME ON THE BAY is thinking like Nancy too! Look at these adorable
ACORN SHORTBREAD FAVORS
. I love this sweet gesture... and these look scrumptious!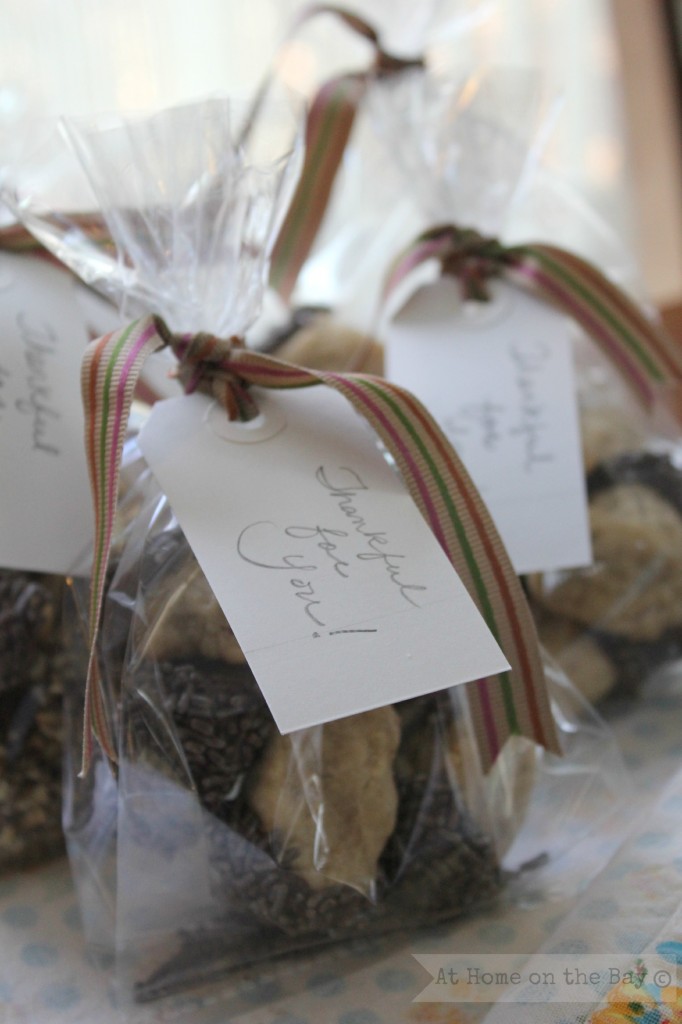 Oh my goodness... doesn't this
LAYERED SWEET POTATO CASSEROLE
make your mouth water!!!! This is one of two amazing side dishes that Kelly from SEMI HOMEMADE MOM made!
Lori, your
MINI PUMPKIN CHEESECAKES
are gorgeous. What a hit they would be with my family!!! Run on over to A STORY TO TELL to get this sweet recipe!
Of course, we need pumpkin pie for Thanksgiving.
MINI PUMPKIN PIES
are so much cuter than a big pie... and you could probably have two!!!
Mary at HOME IS WHERE THE BOAT IS always whipping us the most delightful things!
Here's hoping everyone has a Thanksgiving full of fun, family and lots and lots of fabulous food!!!
NOW WHAT'S ON YOUR MENU...
NOW WHAT'S ON YOUR MENU THIS WEEK...
Thanks, for joining us and sharing!
* Please link your post using your permalink
* Please link back to ON THE MENU MONDAY in the body of your post
* It would be so nice if you followed me!
* Please visit other OTMM participants
* Please link up only photographs that belong to you.
*By participating, you are giving me permission to use your linked post and picture as a featured link in an upcoming ON THE MENU MONDAY.