Let's talk food....If you have found ON THE MENU MONDAY you can't say you don't know what to cook for any and all occasions! There are so many talented cooks and enthusiastic foodies that participate each week. Some of my favorite recipes come from bloggers that are great home cooks!
This week I am trying three different recipes from blogging friends. Greek Orzo Salad from Alison at
THE POLOHOUSE
, Chicken With Garlic Wine from Mary at
ONE PERFECT BITE
and Pork Medallions With Sage Mustard Sauce from Pat at
PAT'S PINK APRON
.
I am also making Gaspacho. My friend Fran is the ultimate entertainer. Relaxed, welcoming and fun... making food that is easy and delicious! She had me to lunch, along with my friend Pinky from
DESIGNS BY PINKY
and my dear friend Barb. Her Gaspacho was incredible!
Of course, I asked for the recipe! I'm making a big healthy batch tomorrow and keeping it on hand this week to eat for lunches and for after church on Sunday! Look for this EASY-PEASY recipes on Friday's post.
Say a little prayer for me... I am having eye surgery on Wednesday. Day surgery so I should be home in time to serve the Slow Cooker Chili! Thanks!
Now, here's what's ON THE MENU...
MONDAY
Rosemary And Lemon Roasted Chicken
Rice
Garden Tomatoes
TUESDAY
Grilled Flank Steak On Skewers
Greek Orzo Salad
source~ The Polohouse
WEDNESDAY ~ SLOW COOKER DAY
Chili
Mexican Explosion Salad
THURSDAY
Grilled Planked Salmon With Tzatziki
Muffin Tin Onion Gruyere Stacks
Tomato Salad
FRIDAY
Chicken With Garlic Wine
Nani's Sauteed Rice
Green Beans In Browned Butter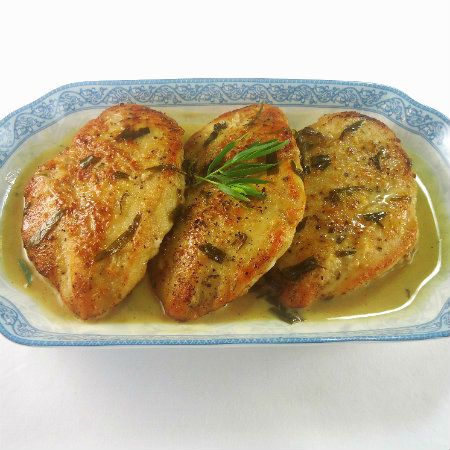 source~ my friend Mary
SATURDAY
Pork Medallions With Sage Mustard Sauce
Mashed Potatoes
Roasted Carrots
source~ Pats Pink Apron
SUNDAY
Garden Gaspacho
(look for the recipe on Foodie Friday)
Open Face Grilled Italian Cheeses on Baguettes
YUMMY RECIPES FROM OTHER SOURCES
Pork Medallions With Sage Mustard Sauce
Chicken Breasts With Garlic Wine
The Polohouse Greek Orzo Salad
FEATURED OTMM RECIPES
This is my favorite part of ON THE MENU MONDAY! I wish I could feature many more great entries from last week.
All I can say is GORGEOUS! Look at what you can do with squash! This incredible
SUMMER SQUASH RATATOUILLE
from Little Kitchen Big Flavors is at the top of my Must Make list!
Let's celebrate the Olympics along with Jen from OUR SOUTHERN TABLE. A true English
FISH AND CHIPS
is on her British menu!
The pickle lover in me can't wait to try out these easy
SWEET PICKLES
. Miss Char from GRACE AND FAVOR has the secret for making them crunchy! Aren't they so so pretty?
Doesn't
CAKE BATTER MUDDY BUDDIES
sound like fun! Anything that tastes like cake batter brings out the kid in me! This sweet treat comes from Julie at A LITTLE BIT OF EVERYTHING.
Now is the time to try Kathy's
HEAVENLY PEACH GALETTE
... when summer peaches can still be found! WIVES WITH KNIVES ( love that blog name) is one of my must-reads!
CRISPY BASIL GNOCCHI WITH TOMATO BLACK OLIVES AND FETA
is my kind of dish! This recipe is from LOVE BAKES GOOD CAKES... and love sure makes yummy gnocchi too!
This is art on a plate! Sam from My Carolina Kitchen never fails to impress me with her beautiful and scrumptious food like this
SALAD WITH CHERRIES GOAT CHEESE AND PISTACHIOS
My offering this week is a fabulous foodie fake-out...
PUFF PASTRY STICKY BUNS
. These look like they took all morning to make, but they are as easy as opening a package of puff pastry!
This week's featured menu plan comes from
SEMI-HOMEMADE MOM
. She has some great, easy meals like Skinny Baked Broccoli Mac And Cheese and Oven Tacos! All YUMMY!
Now what's ON YOUR MENU...
Thanks, for joining us and sharing!
* Please link your post using your permalink
* Please link back to ON THE MENU MONDAY in the body of your post
* Please visit other OTMM participants
* Please link up only photographs that belong to you.